FAQs
How do the prices differ in relation to the number of copies ordered?
The higher the number of copies, the lower the price per copy, as a significant proportion of the price is linked to the preparation procedure (prepress, typesetting, preparation of the press for printing, printing plates, etc.). This part of the price is fixed regardless of the number of copies, and is divided between the number of copies ordered. In case of digital printing, the price difference is less significant, which ensures lower costs for small orders.
Should I choose offset or digital printing?
The advantages of offset printing are outstanding print quality and low cost for large numbers of copies. Offset printing allows for relatively high print speeds (up to 15,000 printed sheets per hour) and the possibility of printing colours according to the Pantone colour chart. The production of printing plates is required for offset printing, which incurs a bigger fixed printing cost than digital printing.

Offset printing is your best choice when you need larger numbers of copies printed, as the price per copy drops with each additional copy and thus, at some point, the fixed cost of the printing plates becomes insignificant.

Digital printing utilises the same printing technique, but the printing machines are operated by a computer. The fixed cost of digital printing is lower and each copy can be different without affecting the price.

Digital printing is your best choice when you need a smaller number of copies but need them quickly, perhaps on the same day, and when you print personalised promotional materials.

Both techniques allow for printing of a variety of print products such as calendars, writing pads, letterheads, catalogues, brochures, business cards, envelopes and leaflets. It is important to understand which option is better in a given case; we will be very happy to advise you.

Which formats are accepted for books to be designed by Medium?
The text can be written with any text editor of your choice (e.g. MS Word). If your book includes images, it is important that you do not insert them into the text but rather send them as separate files (e.g. as JPG files). This prevents the loss of quality which is the consequence of importing them into Word.
How and in what format should print-ready files be submitted?
PDF files are required for the manufacture of printing plates. Such files can be sent via email (up to 10MB), copied to us via FTP, sent through web platforms (www.wetransfer.com, www.dropbox.com, Google Drive, etc.) or delivered on a CD or USB flash drive. You can also deliver your original files created from, for example, Adobe Illustrator, Corel Draw, Adobe Photoshop, Adobe InDesign (with fonts enclosed), and we will create the PDF format for you.
What should the resolution of photographs be?
Photographs adequate for high-quality printing should have a resolution of 300dpi. This can be verified in your photo-editing program such as Photoshop, where the "Document Size" information indicates which size of print can be made from your photograph at 300dpi. Example: A high-quality image of 13×10cm or smaller can be printed from your 1600×1200 pixel photograph.
What are CMYK and RGB, and what is the difference?
CMYK and RGB are colour models. CMYK is an abbreviation of the words cyan, magenta, yellow and black. Similarly, RGB is an abbreviation of the words red, green and blue. By combining these colours, both models facilitate the reproduction of the entire colour spectrum. The difference between the two is that CMYK is employed in printing, while RGB is used on computer monitors and TV screens. When preparing your materials for printing, you must make sure that you have changed the colour model to CMYK.
What do the terms bleed printing and bleed mean?
Bleed printing means that the printing extends to the edge of the print product after trimming. Bleed is required for bleed printing and should extend beyond the edges of the desired print product by 3 mm. The bleed ensures that no unprinted edges occur in the final trimmed document.
What is the standard procedure for corrections? Is it possible to see a proof?
We never commence the final printing until our client has reviewed the designed print product and verified that both the design and the content correspond to their wishes. The print product can either be reviewed in a PDF file on a computer monitor (soft proof) or we can print it to paper for you using a digital printer (hard proof).
How do I know what the spine width of the book will be?
The spine width depends on the number of pages, as well as on the paper and binding type. Once these are known, we can calculate it for you.
Can you imprint/print on various items?
We utilise a variety of printing techniques. If you have a product which you wish to be imprinted, please call us and we will inform you of the available imprinting options (screen printing, pad printing, digital printing, offset printing, dye sublimation printing, etc.). If laser engraving or embroidery (for textiles) would be the best option we can arrange that for you too.
When is bleed required?
When you want your print product to extend to the very edge, so that there is no white space, you will need to make sure that you use the bleed (2 3mm), which is then trimmed off as part of the product finishing process.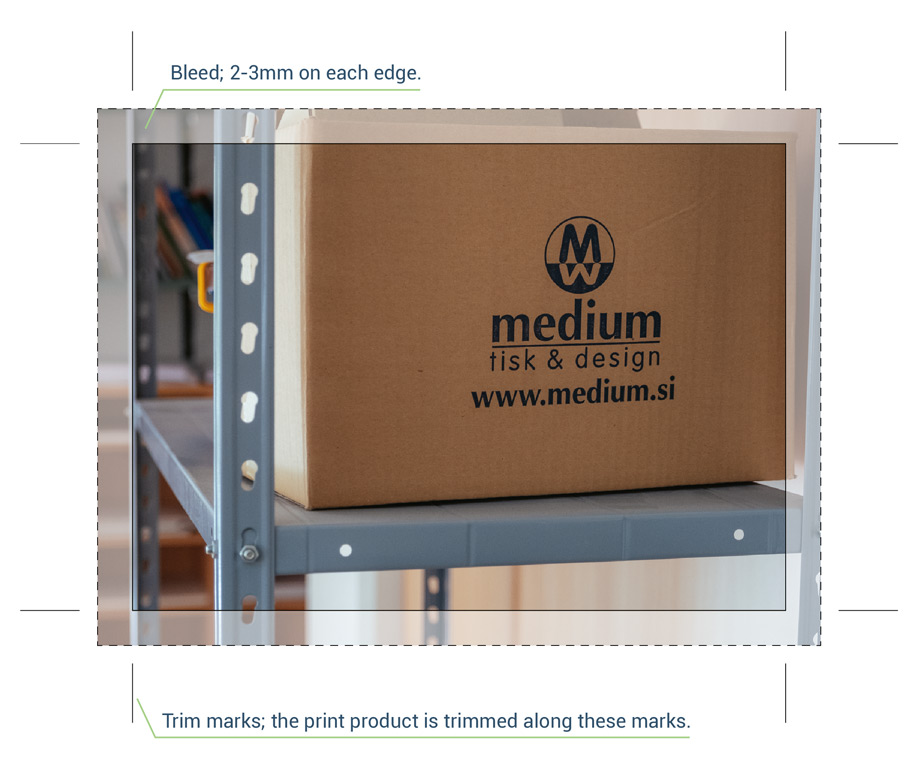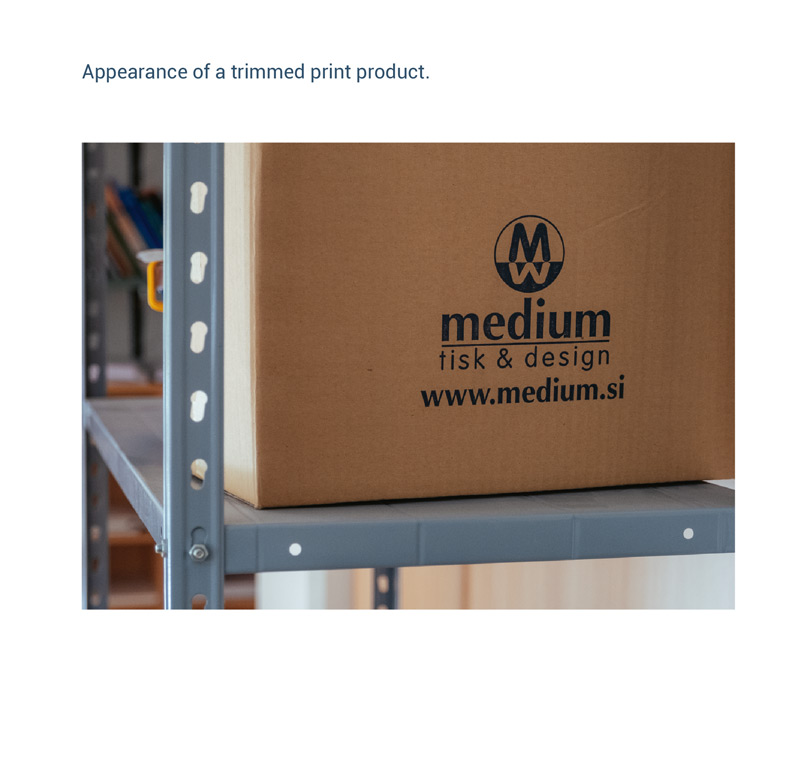 What other important technical elements need to be considered during the preparation of a print product?
1.Print product size –Trim-box
Is the print product size setting in your file appropriate?

2.Bleed-box
Is the bleed in your file set up correctly?
Set up 2-3mm.

3.Safe zone
Is the content of the print product within the safe zone important? For example, is there sufficient margin between the text and the trim marks?
For business cards, we recommend at least a 5mm margin on all four edges. For books, the text should have at least a 10mm inside margin (back margin), and a 5mm margin on the top, bottom and outside.

The photograph shows the technical elements required for a proper prepress procedure: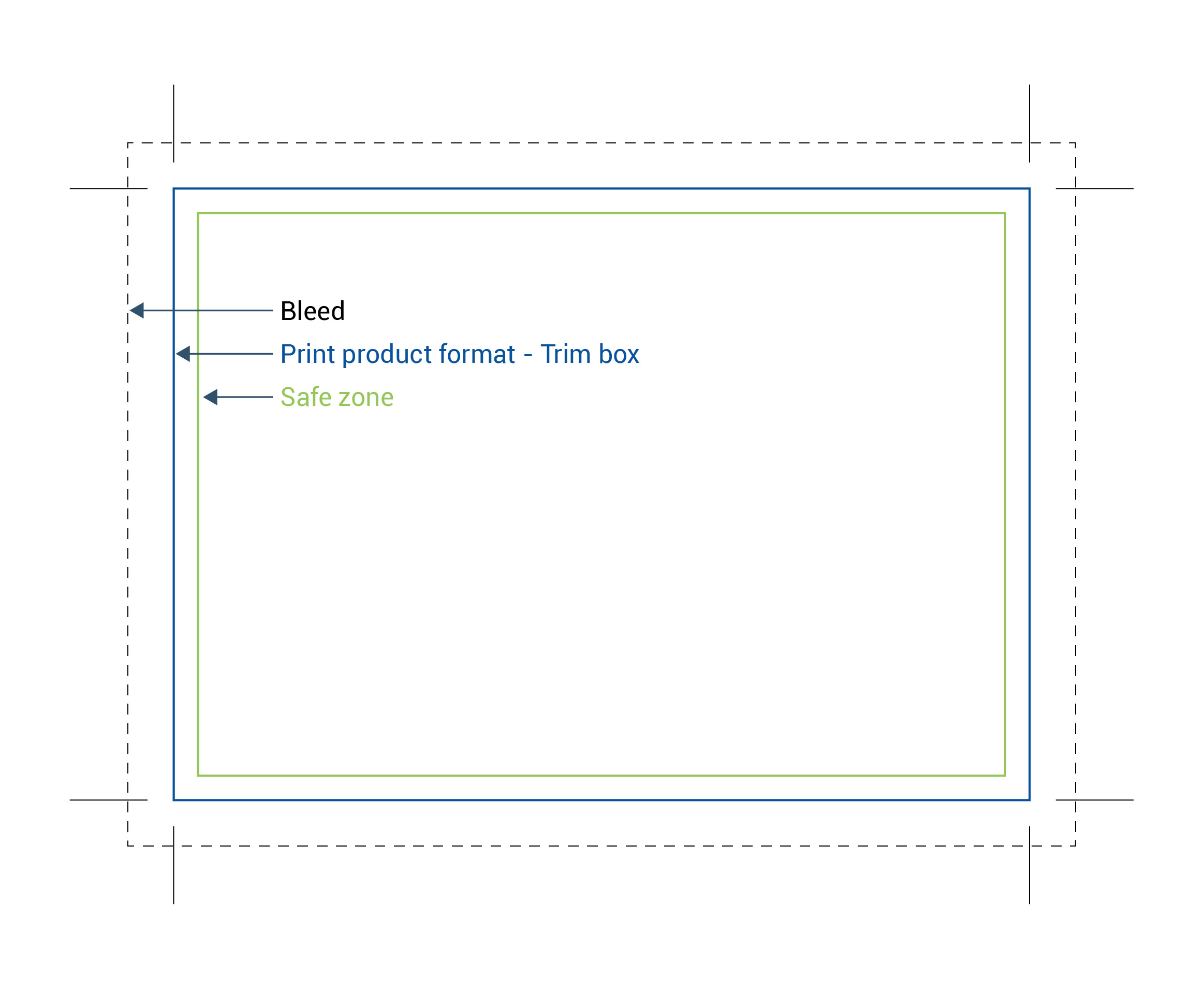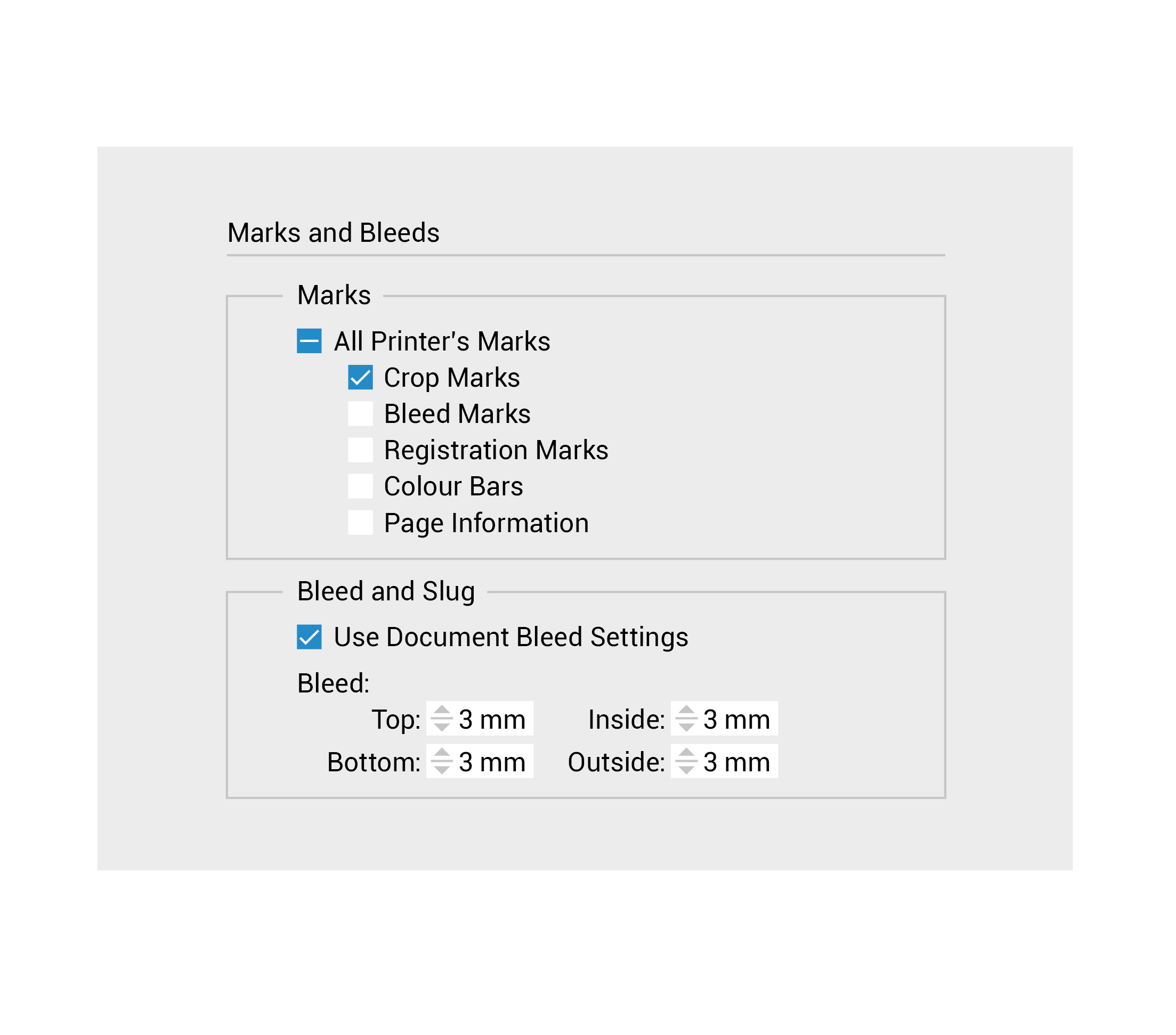 How many pages should a catalogue, brochure or book have?
The number of internal pages in a booklet, catalogue, brochure or book should be divisible by four , or else binding is not technically feasible. If the number of pages of your print product is not a multiple of four, blank pages will have to be added.
What colour profile should be applied when creating a PDF?
We recommend choosing the Coated FOGRA 51 colour profile for printing on coated papers, or Uncoated FOGRA 52 for printing on uncoated papers.
How should we send a catalogue with multiple pages for printing?
A high-resolution PDF is required for printing purposes. The order of pages in the file should be from first to last (the same order the catalogue will be leafed through). In other words, send as Pages, not as Spreads. Spreads are fine for a corrections file.